Useful Tips
Wyards offer a comprehensive packing service. Obviously, you will want everything to go as smoothly as possible on the removal day so a few minutes spent studying this section will help towards the success of your move. If you have any queries, do not hesitate to phone our office where experienced staff, are on hand and will be pleased to discuss / advise the finer points with you.

Packing - Wyards offer a comprehensive packing service or provide cartons, materials for owner packing. Very small items (trinkets and valuables) are best packed and sealed in a well labelled box. It is worth discussing who-does-what prior to the move.
Pack like a pro

Special arrangements - Carefully mark in advance any items which are not to go. If you have antiques or collections of paintings, tropical fish, cacti, hot house plants or any other unusual items discuss with us beforehand any special  packaging or transport needed.

System furniture - These are not designed to be moved - the fixings used on some self-assembly furniture means it does not always re-assemble very well. If the units are transported whole, some suffer from the manoeuvre; from experience, it is not possible to guarantee the joint(s) of such furniture will stay in prime condition whether dismantled or moved as a unit.

Bedding - Should be folded and placed in Wyards polybags, and mattresses, linens / pillows placed in polysleeves.

Hanging clothes can be removed in our purpose made mobile wardrobes

Drawers - May be left full, if containing light weight clothing - NOT full of books / unwrapped breakables etc.

Parking - Advise us of parking restrictions – You  may need to liaise with traffic wardens / police, for parking permits. Our quote will assume our lorry  will be parked no more than 20 metres from your new front door. If sufficient arrangements have not been made prior to removal day the move will take longer and there maybe additional costs.  If your road tends to get a bit crowded, try and reserve a parking space by parking two cars with a largish gap in between (our larger vehicles require the same space as a double decker bus).

Unloading - You've seen your new home, we haven't - so do warn us about anything potentially difficult such as no  large vehicle access, a long, stepped path, distance to the garden shed or a spiral staircase. This will all help to plan a successful move.

Domestic equipment - All electrical equipment needs to be unplugged, disconnected and ready to move. Wyards are able to offer a disconnection service for washing machines and small appliances at additional cost. Please speak to the move manager if you require this service. Unless specified the quoted price will assume that all fridges and freezers are defrosted and ready to move. Ovens and hobs should be properly disconnected and gas supply isolated.

Instructions - When the removal team arrives, they will introduce themselves and conduct a quick  risk assessment and survey. Show them what has to be moved (don't forget the garage and the garden !). Just as important point out what is NOT to be moved. Where fitted carpets are being left particuarly in hallways, we provide protective coverings.

Hand luggage - If there's anything you specially want off the van first at your destination, tell our foreman. Keep your hand luggage separate (coats, car keys, pet food and of course, the kettle !) as you will need them for your own journey. Don't let them get packed in the van !

Don't forget - There's an awful lot of people with a vested interest in your whereabouts ! Remember the main ones such as banks, building societies, credit card companies, investment accounts, insurance companies / brokers, rental firms, vehicle licenses, doctor, dentist, electricity, gas, newsagents, opticians, passport offices, telephone, TV, water board, and of course, your friends -

 Your Responsibility Prior To The Move
We will expect you to have pre-boxed all small and miscellaneous items prior to our arrival, except where we have quoted to provide the Full and/or China and Glass Packing Service.
The boxes should be filled to capacity. The smaller boxes should be used for books and heavy items, and the larger boxes for other household effects. Please use the packing advice given in our "Pack like a Pro" leaflet.
Boxes that are too small, or of many different sizes take our staff longer to pack onto the vehicle, and result in more trips from the house to the vehicle. This could result in extra charges as the move may take more time. Please contact us for a box delivery!
Fridges and Freezers should be defrosted and thoroughly dried out prior to removal into store.
Lofts must be emptied in advance of your move, unless previously agreed in writing by us.
Unless access is gained to your new home at the time we have agreed in writing to you, waiting time will be charged at £15.00 plus VAT per man per hour  or part thereof (normally after 2pm) See Delay Waiver Option on your quote.
Visit Wyards Shop
Free moving quotation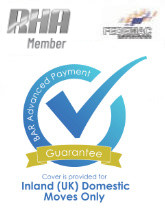 We adhere to the British Association of Removers Alternative Dispute Resolution Scheme which is independently operated by;

The Furniture Ombudsman
Premier House
First Floor, 1-5 Argyle Way
Stevenage, SG1 2AD
T: 0333 241 3209
W: Website