Removals to Europe
Moving to and from Europe : We take the worry out of your move.
Wyards Removals successfully help people move  to destinations all over Europe , and have an experienced staff team able to help with the removal at every step of the way.
Moves are planned and managed to your requirements
Full & part-load services available to all major destinations in Europe including Removals to France, Removals to Spain, Removals to Germany, Removals to The Netherlands, Removals to Belgium, Removals to Italy, Removals to Norway, Removals to Sweden, Removals to Denmark.
Local assistance from agents and partners Europe-wide
The Wyards team are friendly, efficient and experienced removals professionals.
By using Wyards  Removals as your movers, your furniture and personal possessions are in safe hands. Using our fully trained staff, your belongings will be moved with expert care and attention. Considering both the monetary and sentimental value of your possessions, the cost of an expert move is a worthwhile investment. You will also save yourself a great deal of time and worry.
We can either provide you with a dedicated service or we can offer a groupage service where your goods are consolidated with other consignments before delivery is arranged.
Wyards will professionally pack, load, transport your goods to your chosen destination. Even difficult items such as pianos, motorbikes, cars etc. can be expertly packed and moved.
A dedicated service will mean that your possessions are packed into one of our lorries and transported directly to your new home where they will be delivered by our own experienced staff. This is the fastest way of moving your effects to your new home.
A groupage or part load service for those with less than a full lorry load entails your effects being collected from your home, transported to our warehouse and then grouped with other items destined for the same area in order to share a lorry. Please note that this will take longer than the dedicated service as it may take some time for a full load to be consolidated.
We can advise and provide you with all the necessary paperwork either for those countries who are members of the European Union or non member countries, relieving you of some of the stress of relocating abroad.
Visit Wyards Shop
Free moving quotation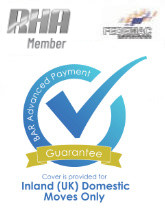 We adhere to the British Association of Removers Alternative Dispute Resolution Scheme which is independently operated by;

The Furniture Ombudsman
Premier House
First Floor, 1-5 Argyle Way
Stevenage, SG1 2AD
T: 0333 241 3209
W: Website