Domestic Removals
We take the worry out of your move.
Using Wyards Removals as your movers will ensure that  your furniture and personal possessions are in safe hands. Our fully trained staff will move your  belongings with expert care and attention. Using expert removers is often not as expensive as you might have imagined, and is a worthwhile investment. A DIY move can be costly in terms of stress, hire vehicles, sourcing enough help and packing materials, and the cost of breakages.

Advisory Service and Quotation
As soon as we receive your enquiry, one of our experienced consultants will establish your individual  move requirements, and quickly give you an estimate of costs. This can usually all be done in a phone call lasting a few minutes. Our estimate will be sent out to you detailing the summary of your requirements.  If a survey visit is required this will be booked during the initial telephone consultation.  As a leading UK removal, storage and packing company, Wyards offer a comprehensive range of UK removal services including packing and unpacking services, specialist removals and removals insurance.

If you would like to talk to someone about your move, please contact us.

Packing and Export Wrapping
Should you choose to use our packing service, there are a number of options that you may consider We only use the highest quality packing materials and have a vast range to suit any requirements you may have.

Packing is best left to the experts, and quality packing is assured by employing trained packers using proven packing techniques.

We can pack valuables to Export Standard, providing extra protection sufficient for safe transportation overseas.

Your antiques, polished furniture, silverware, fine china, and all your possessions are protected using a range of purpose designed cartons.

Full Packing Service
We supply professional packing and wrapping of your china, glass and Kitchenware. The professional packing of books, linen and miscellaneous effects into specialised removal cartons. Paintings and mirrors will be packed using appropriate materials.

China and Glass Packing including Kitchenware
We supply professional packing and wrapping of your china, glass and Kitchenware.
Moving kits (boxes and tape) can be purchased from Wyards for you to pack all remaining items. Wardrobe cartons will be provided on the day.

Owner Packed
A Moving kit (boxes and tape) can be purchased from Wyards for you to pack all your items. Wardrobe cartons will be provided on the day for you to pack and unpack.

Packing Materials are available to help you pack
White Paper
Acid Free Tissue Paper
Bubble Wrap per roll (40 cm x 100 metres)
Various box sizes, if not included in our service provision


Our fact sheet Pack like a Pro will help with ensuring that your items arrive safely in the new address.

Wyards move to and from all villages, towns and cities in the UK – including: Bath, Belfast, Birmingham, Blackpool, Bournemouth, Bradford, Brighton, Bristol, Cambridge, Colchester, Cardiff, Chelmsford, Coventry, Derby, Edinburgh, Exeter, Glasgow, Gloucester, Grimsby, Huddersfield, Ipswich, Leeds, Leicester, Lincoln, Liverpool, London, Luton, Manchester, Newcastle, Norwich, Nottingham, Oxford, Portsmouth, Reading, Sheffield, Southampton, Swansea.

Booking Your Removal with Wyards
Packing services
Your responsibility prior to the move
Moving Overseas - International Removal
Removals to Europe
Pack like a pro
Visit Wyards Shop
Free moving quotation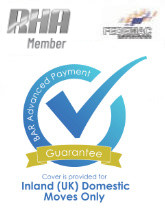 We adhere to the British Association of Removers Alternative Dispute Resolution Scheme which is independently operated by;

The Furniture Ombudsman
Premier House
First Floor, 1-5 Argyle Way
Stevenage, SG1 2AD
T: 0333 241 3209
W: Website